Attention:

My Arban Adventure project has suffered some setbacks. I do not know when or if I will be able to complete this project.
Due to a technical error I lost 4 months of recordings of my daily practice and work in Arban. UGGHHH! I was faithful to keep back up files but when I needed them they were currupted.
Also, health issues have been a problem in the last year.

I hope to, someday, continue this project, at the moment, it is on hold. I am very disappointed and sorry about this. I was really enjoying it.

~~~~~~~~~~~~~~~~~~~~~

"An adventure is a dangerous experience that leaves
you with an interesting story to tell, if you survive."

--Michael Banks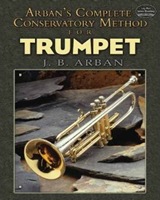 Check the Weekly Logbook for a week by

week account of My Arban Adventure.
My Arban Adventure is my journey through Arban's Complete Conservatory Method for Trumpet.

I don't expect My Arban Adventure to be a "dangerous experience" as Michael Banks said but I do expect great things of this adventure. I know I have potential to play so much better than I ever have and I am excited to see just how much better.

Follow along as I work my way through Arban. I am going to work hard to achieve all that I can from this experience.

I chose Arban because it is so comprehensive and it will be a challenge to work through. I used it some in college but that was a long time ago and the years have not been kind to my embouchure. I guess that's what happens when you don't have time to practice very much, if at al. I have seen great progress with embouchure and breath support already in the few weeks I have been on this journey. I am very excited about where this journey will take me.

In the last 25 years I have been working as a full-time therapist in the Mental Health and Substance Abuse fields and for almost 20 of those years I did part-time music ministry. So, between the full-time and part-time work I didn't have much time for playing trumpet. I played whenever I could and played in several quintets and other ensembles but didn't really get to play as much as I wanted.
I have a lot more free time lately so I have taken up the challenge to work my way through Arban to see what I can do about reaching my potential as a trumpet player. You can read more about my trumpet journey--my successes and failures by clicking on My Trumpet Journey--So Far.